March 1, 2023
Posted by:

Amit Pabari

Category:

Uncategorized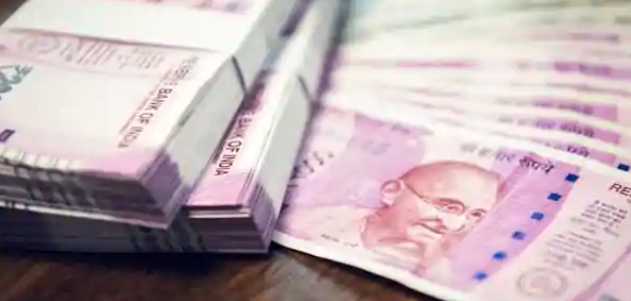 CNBC TV18 | The rupee has been caged between 82.50-82.90 levels for the past three weeks. However, the month of March seems to get an awaited direction to the USD-INR pair. Going forward, a reversal in the US dollar index (DXY) from a crucial resistance of 105-105.50 zone could support positivity in emerging market currencies and thus for rupee too.
Here are some of the possible triggers that could affect the currency in the coming months:
RBI's stance on policy and the forex market
On the policy front, RBI's stance has been crystal clear, hike the rate immediately whenever inflation is a concern. The liquidity, growth, and other fundamentals haven't been the issue, so RBI could step up or down smoothly without having a second thought in mind. After the recently released domestic inflation figure of 6.52 percent, the RBI is expected to continue its hiking cycle, unless any uncertain event creates a pothole on the way of growth.
On the forex side, the FX reserves have increased from $531 billion at the end of Oct 2022 to $576 billion at the end of Jan 2023. Meantime, Rupee appreciated from 82.30 to 81.70 with a bottom near 80.50. So, RBI piled up $45 billion during this time. Even if we consider 67 percent of these reserves as a revaluation and MTM, still RBI has built up $14.85 billion.
They also piled up their forward position from a mere $0.27 billion at the end of Oct 2022 to $10.96 billion by Dec 2022. At the same time, whenever, the USDINR pair has tested 82.50+ levels, the RBI has started a rescue operation by using a few yards of dollars. Last 3-week's data suggests that RBI's FX reserve kitty fell by $15.49 billion to $561.27 billion.

India's sound fundamentals
India's fundamental has indeed been resilient despite multiple global chaoses in the global market. On the fundamental side, inflation is at 6.52 percent, just a few bps above the central bank's target levels; PMIs are still above the expansionary 50 mark, trade deficit is turning lower as oil prices are stable and in fact, India is outsourcing 28 percent of oil from Russia at a much cheaper rate. Furthermore, India's growth is intact, and corporate and retail businesses are on a strong foot.
Overall, we are expecting that the stronger fundamentals & higher growth should support rupee and help it to appreciate from the current levels.
Optimistic FDI flows
If not FIIs then FDI flows have supported the flow story since the start of the year. As per CR Forex research, India attracted almost $11.40 billion worth of FDI flows. Further, almost $4 to $4.25 billion is yet to hit over the next couple of months. Surely, this can be a game-changer for the rupee and we could see it appreciating towards 82-81.50 levels.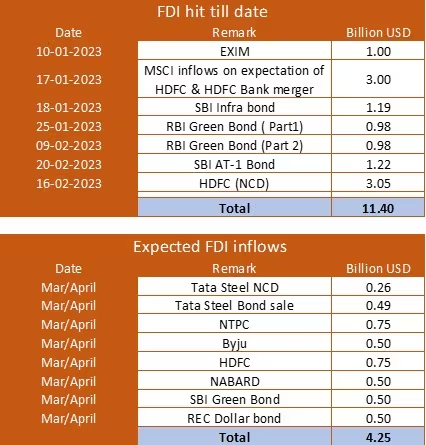 A breather in the US Dollar index
Since the start of this year, we have seen the US dollar index bottoming out near 100.80 and jumping towards 105.40, a rise of almost 4.5 percent in almost two months. The major reason behind the same were stronger US economic data, hawkish Fed governor and member's tone, and thus the rising expectation of rate hike from just a single quarter to three hikes. This resulted in multi-year highs in short-term yields and eventually created a demand for USD.
However, Fed could calm down its tone in the upcoming times as they will not allow the economy and market to get impacted heavily by the rate hike aggressiveness. So, they will keep on calming the extremely hawkish bet nerves. Hence, we can expect US DXY to take resistance near 105-105.50 and make a reversal for 102.50-102.00 levels. This would be positive for the rupee too.
Outlook
Summing up, the higher real yields, hawkish RBI stance and conventional intervention will likely attract a positive carry trade setup at current levels. On the technical front, there are 3 types of trends- Bearish, bullish, and consolidation. After making an all-time high of 83.25, the pair went into a consolidation range of 80.50 to 83.25. As long as the pair is trading below the crucial resistance of 83.25, there is an 80 percent probability that the pair will move toward 82-81.50 over the next month and 81 over the next couple of months.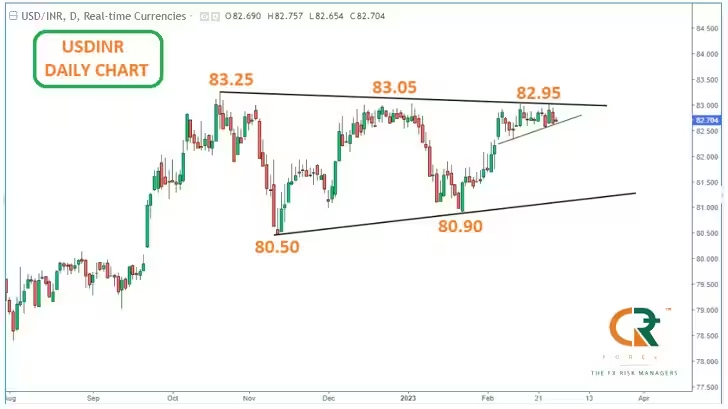 -Amit Pabari is Managing Director at CR Forex Advisors. The views expressed in this article is his personal views.
Source: https://tinyurl.com/5yy9pmmv